Pallet Flow systems fully utilize the available storage space while ensuring the faces along the picking aisle remain regularly stocked. In this first-in/first-out (FIFO) system, pallets are loaded at the top end of the slightly inclined rack and glide safely and effortlessly at a controlled pace to the other side. 
These heavy-duty systems are designed for years of trouble-free operation with rugged load-bearing wheels. Inventory turnover is quick and efficient, whether the merchandise is moved strictly on pallets or as part of an order picking system.
Ideal for freezer warehouses, food distribution, or for storage of high-volume customer goods, Pallet Flow is also good for holding warehouses and dispatch areas, where pallets need to be removed quickly. Every phase of the operation is carefully considered to provide the most efficient, customized system possible. Advantages:
Ideal for products with expiration dates.
Produces an almost solid volume of usable storage space.
Provides savings in space, manpower and utilities.
Provides an infinite variety of layouts depending on the individual flow rates and order picking requirements.
STEADIFLO PUSHBACK FEATURES AND BENEFITS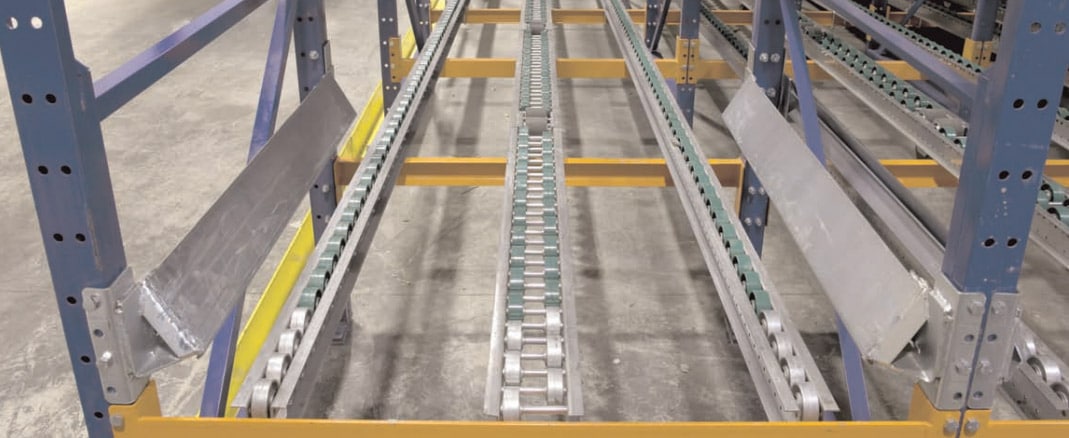 ▲ DEEP LANE PALLET FLOW WITH WHEELS IN A SINGLE-DOUBLE-SINGLE CONFIGURATION FOR STANDARD GMA/CHEP PALLETS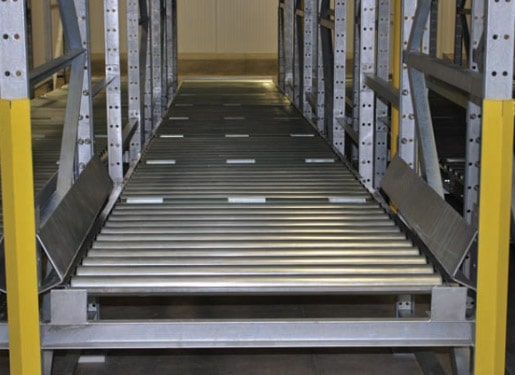 ROLLER FLOWRACK FOR SPECIAL PALLETS AND LOADS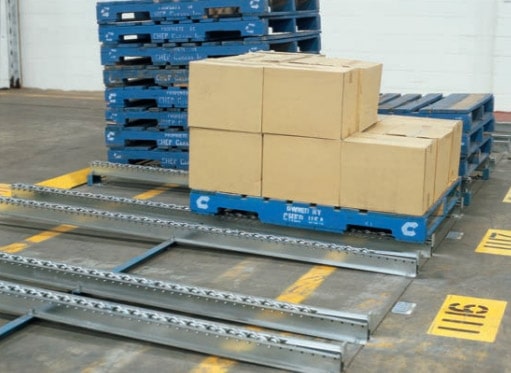 SKATEWHEEL BEING USED FOR PALLET PICKING AND RETURN

HEAVY DUTY DEEP LANE PALLET FLOW WITH WHEELS IN THREE DOUBLE ROW CONFIGURATIONS
COMPONENTS FOR EVERY FLOW STORAGE APPLICATION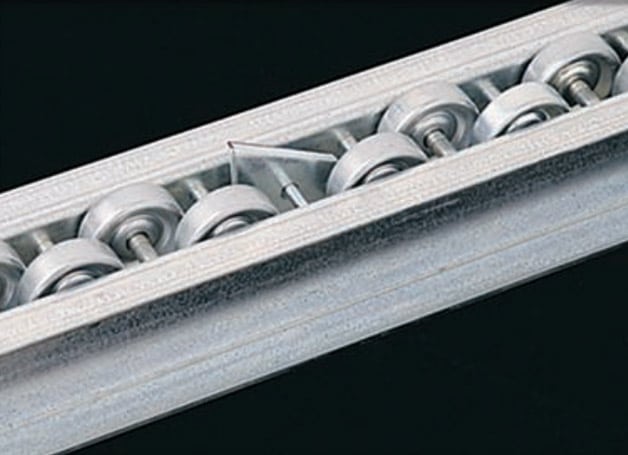 SKATEWHEEL TRACKS
Typically used in two or three deep picking systems either in single runs or double staggered runs as shown here.
The steel wheels are constructed of 15 gauge material and are load-rated at 150 pounds. Wheels are mounted at 11/2" centers when double staggered, and 2" or greater when used in single lines.
Channel supports are constructed of 1"x 3"x 1" 12 gauge galvanized steel channel. Ramp stops and anti-rollback devices are standard.
STEEL ROLLERS
Rollers range in size from 1.9" to 2.5" in diameter and 4" to 56" BFR (between frame rails).
Rollers ensure stability as well as provide large load-bearing capacity and support for special pallets, steel containers, or plastic totes.
Channel supports are constructed of 1" x 3" x 1" 12 gauge or 1.5" x 4" x 1.5" 10 gauge galvanized steel channel depending on the application.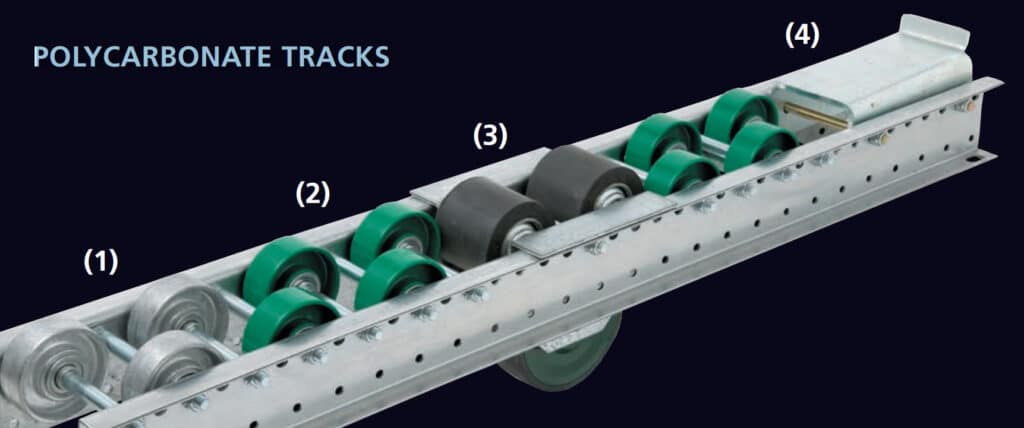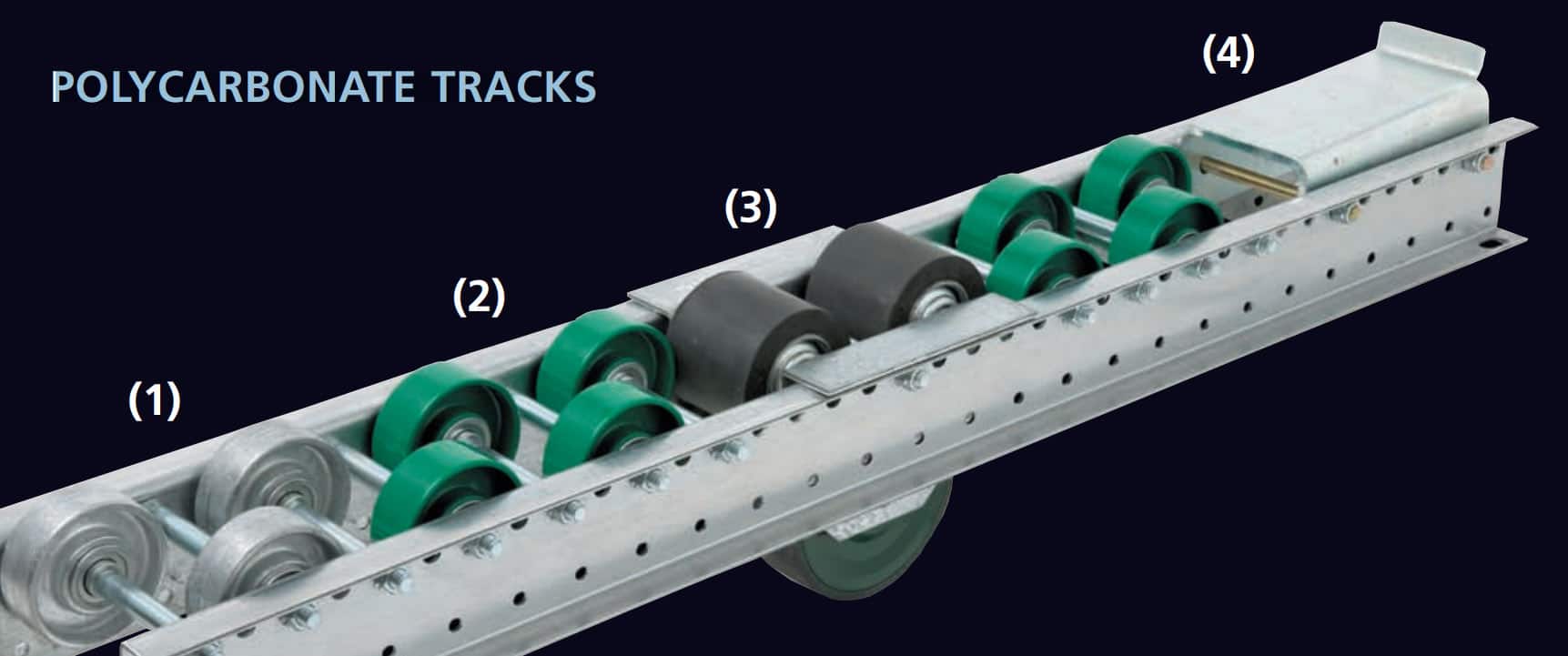 POLYCARBONATE TRACKS
(1) IMPACT WHEELS – Cast zinc impact wheels are typically placed in the first 12″ of the lane to provide superior resistance to damage from pallet impact.
(2) POLYCARBONATE WHEELS – These 2.875" diameter wheels have steel ball bearings and are typically configured on 2″ or 3″ centers. Wheels are load-rated at 150 pounds. These wheels are most commonly used for GMA or CHEP pallets and are generally mounted in a three track configuration with the center track containing speed controllers. The special polycarbonate formula is suited to wide temperature ranges and is resistant to impact.
(3) INDIRECT MOUNTED BRAKES – Our indirect brakes provide a superior braking surface with increased friction, using two rubber coated contact rollers.
(4) PALLET STOPS – Our stops are constructed from structural steel, enabling them to withstand impacts from heavy pallets and forktruck abuse. The stops are manufactured with a gentle ramp slope that brings the loaded pallet to a stop in a smooth and controlled manner.