 INSTALLATION & RELOCATION
Pallet Rack Installation & Rack Relocation

With more than 35 years' experience, at Concept we pride ourselves in having the ability to be a 'turnkey' warehouse storage equipment supplier. Whether you are moving, expanding or otherwise changing your storage configuration and capacity, we provide expert pallet rack installation and rack relocation services. 
During installation and relocation, your system is carefully monitored by a Concept Project Manager. Every step of the way we ensure that all objectives are met and all scheduled commitment dates are maintained. Contact Us today to discuss your storage needs and how to obtain the most practical and economical solution.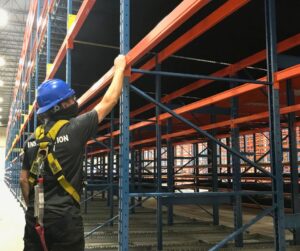 Pallet Rack Installation & Rack Relocation Steps
Our steps to a successful expansion or relocation are as follows:
Initial Site Analysis 

Initial Design and Quotation 

Detailed Site Measurements

Final Design and Detailed CAD Drawing 

System Fabrication

Freight, Unloading & Installation (or relocation, or modification) 

Buyback or Trade-in of Existing System
READY TO START
YOUR PROJECT?
Contact us today to discuss your needs.