Space is a finite and expensive resource when it comes to warehouse design. The rack aisle width will affect the level of productivity achieved in a warehouse, and most importantly, provide an opportunity to maximize available space.
Determining the right pallet rack aisle width to implement in a warehouse mainly depends on the type of forklift you are using. In this blog, we outline the suggested rack aisle widths for counterweight forklifts, narrow aisle forklifts, very narrow aisle forklifts and finally order pickers.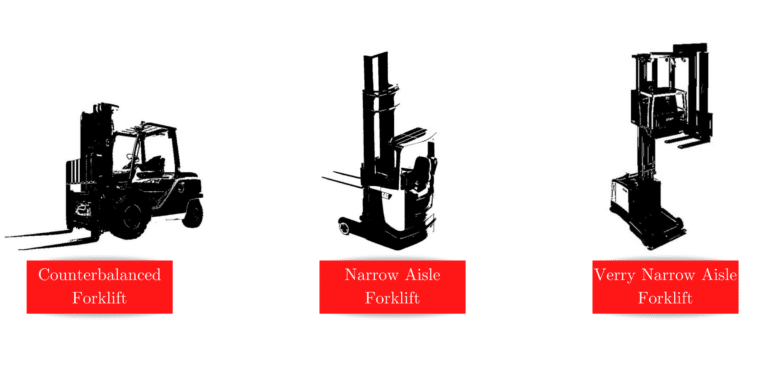 Type of Forklift

Counter-Balanced
Counter-balanced forklifts are the most commonly used forklifts in the material handling industry because they are the most versatile, the most affordable, and the easiest to train staff to use. Among counter-balance forklifts, there are 4 different types; electric standard 4-wheel, electric standard 3-wheel, LPG (liquid propane gas) and standup. Each of these counter-balance forklifts have different lengths and maneuverability; thus affecting the minimum rack aisle width required.
The suggested rack aisle widths below are based on counterbalanced forklifts with a 3,000-4,000lbs capacity. As with most things with warehouse storage system design, it is advisable to refer to your forklift manual and to consult a professional engineer when designing your rack aisles.
| | |
| --- | --- |
| Type of Counterbalance Forklift | Suggested Rack Aisle Width |
| Electric Standard 4-wheel | 12'-14' |
| Electric Standard 3-wheel | 11'-12' |
| LPG | 12'-15' |
| Stand Up | 10'6"-11'6" |
To get a more granular rack aisle width, industry professionals use the below formula for determining aisle width when counterbalanced lift forklifts are being used:
Head Length + Load Length + 12" (for maneuvering your forklift) + 6" (pallet rack overhang)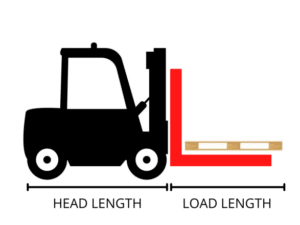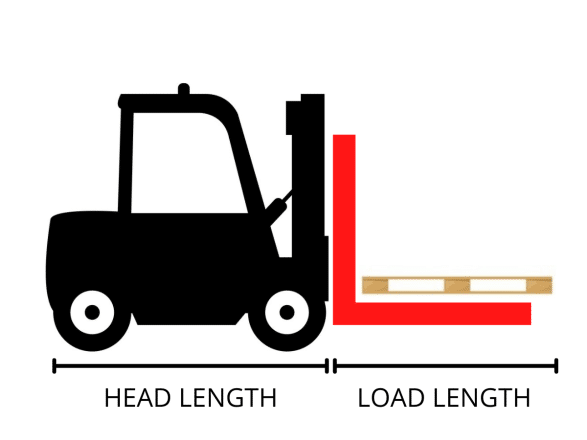 Head Length: Refers to the distance from the back of the forklift to the front of the load basket
Load Length: Refers to the length of the pallet, plus any load overhang
12" for Maneuvering: Refers to the general amount of space that a counterbalance forklift needs
6" for Pallet Overhang: Refers to the overhang from the pallets that are currently stored on the pallet racking, which is typically 3" of overhang coming from each side
Narrow-Aisle (NA) Reach Trucks
As the name suggests, using a narrow-aisle reach truck allows for a narrower aisle! Rack aisles for a standard NA reach trucks are generally between 8'6" to 9' wide. For double reach NA trucks, which require a special bottom beam for the straddle to slide under, typically requires an aisle width of 9'6"10.
Turret Truck Aisles/Very Narrow Aisle (VNA) Trucks
These state of the art machines use rail or wire guidance to move throughout the rack aisles. There are two types of VNA trucks currently on the market; man down VNA and man up VNA. Man down VNA trucks are used for shorter racking systems of 22' and below. Man up VNA trucks can be used for racking systems as high as 40'.
In either case, VNA trucks can operate in a rack aisle as narrow as 5' to7'.
Because of their ability operate in very narrow aisles, VNA trucks can increase the storage space in your warehouse by up to 36%. Although VNA trucks are extremely expensive, many warehouse managers opt to implement these trucks to maximize space, as the cost of moving to a larger warehouse is always much higher.
Order Picker
3 and 4 wheel Order Pickers offer the ability for warehouse associates to work at the same level as the products being stored and retrieved. Having the working platform raise to the desired storage level is perfect for warehousing small boxes and totes. An aisle as narrow as approximately 46" results in huge savings when designing the footprint of your proposed racking system. Order Pickers typically travel in aisles that are equipped with full aisle length steel angle guiderails or a wire guide system which keeps the order picker centered in the aisle and also reduces racking damage. Always consult with the supplier of the Order Picker when picking the correct aisle width specifications.
In Conclusion
When designing a warehouse storage system, there are many factors that must be considered. As we outlined above, the equipment being used to handle the material will determine the rack aisle dimensions, as well as other aspects of the storage system design. It is paramount that you consult a professional to ensure that your warehouse design works with the space you have, the material you are storing and the equipment you are using. Failing to consider these aspects can result in an unsuccessful safety compliance review of your warehouse, and a lack of operational efficiency.
This is where Concept Storage can help! We design, supply and install professional warehouse storage solutions. Our team of industry professionals is here to provide you with a top-notch warehouse storage system so your business can thrive.